Cilantro, also known as Chinese parsley, is known for its unique and refreshing flavor. The herb belongs to the same family as carrots, parsley, and celery. According to MedicalNewsToday.com, all parts of the plant are edible, but the leaves and the seeds are the most commonly-used parts in cooking. The fresh leaves are referred to as cilantro, while the seeds are called coriander.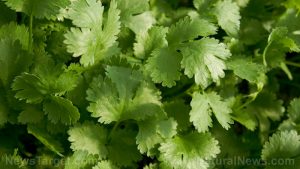 List of known nutrients
Cilantro is known to contain high levels of important vitamins and minerals that boost the body's overall health. Nutrition-and-You.com made a list of cilantro's nutrient content, which includes:
Calcium

Carotene

Folates

Iron

Lutein

Magnesium

Manganese

Niacin

Pantothenic acid

Phosphorus

Potassium

Pyridoxine

Riboflavin

Selenium

Sodium

Thiamin

Vitamin A

Vitamin C

Vitamin E

Vitamin K

Zeaxanthin

Zinc
Medicinal uses for cilantro
Like many other herbs, cilantro is known to aid in digestion. Cilantro's aroma and essential oils promote the secretion of enzymes and digestive juices that facilitate digestion and peristaltic motion. Cilantro leaves are also known to alleviate indigestion and nausea. The herb is also a rich source of fiber and roughage. In addition, cilantro contains antioxidant properties that are beneficial to liver health. The herb is also a popular remedy for dyspepsia and colic in children. Cilantro is also known to address eating disorders such as anorexia. Furthermore, the herb contains unusually high levels of dodecenal, a natural compound that is twice as effective as antibiotics in combating salmonella.
Cilantro is also touted for its high antioxidant and anti-inflammatory properties that effectively decreases bad cholesterol levels and lowers blood pressure levels. The herb is also a rich sources of essential minerals such as potassium, magnesium, calcium, manganese and iron. Cilantro's low sodium content and high potassium levels regulate heart rate and blood pressure. It's high iron content also promotes red blood cell production. This makes cilantro a wonderful superfood against heart diseases.
Cilantro's stimulating effect on the endocrine glands promote insulin secretion, which in turn boosts sugar absorption and promotes blood sugar control. Cilantro is also known to prevent unwanted spikes in blood sugar levels in patients. The herb's anti-inflammatory properties also provide ample protection against diabetes.
The herb is also useful in keeping anxiety and stress at bay. Cilantro is known to rid the body of heavy metal deposits. In addition, the herb's rich iron content prevents the onset of anemia. The herb's high calcium content is also found to promote bone health and stave off certain bone-related conditions such as osteoporosis. Cilantro is also rich in vitamin A, vitamin C, and essential minerals that protect the eyes from strain and related disorders such as macular degeneration. Furthermore, cilantro is known to ease mouth ulcers, small pox, conjunctivitis and menstrual disorders.
Body systems supported by cilantro
Cilantro is best known for its benefits on the digestive system. The herb is also known to prevent cardiovascular diseases, making it an essential heart-healthy food. Cilantro's insulin-activating properties benefit the pancreas. The flavorful plant is also beneficial to the brain, the bones, the eyes, and the female reproductive system.
Ways to use cilantro
Cilantro's unique and refreshing flavor have long been used in various recipes, especially in making dips and sauces. The herb is also used in in seafood and meat dishes. Cilantro is also used in soups and salad, and is especially a good alternative for pesto.
Where to learn more
Summary
Cilantro prevents digestive issues, heart disease and diabetes.
Cilantro also keeps anemia, menstrual conditions and osteoporosis at bay.
The herb also addresses anemia, anorexia and anxiety.
Cilantro benefits the digestive system, the heart and the eyes as well as the bones and the female reproductive system.
Sources include:
We will respect your inbox and privacy