Black olives are a popular side dish, garnish, and addition to many sumptuous dishes. Unlike the regular green olives, black olives are picked when ripe and cured in salt, water, and brine to remove the bitter taste. According to an article posted on the Huffington Post website, black olives are generally less bitter than green olives. However, the article noted that the texture and flavor of any olive, regardless of its color, still depend on the curing process.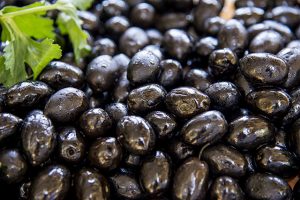 List of known nutrients
Black olives are packed with essential vitamins and minerals that help promote the body's overall health. According to an entry on the SELF Nutrition Data website, black olives contain:
Calcium
Choline
Copper
Folate
Iron
Linoleic Acid
Magnesium
Manganese
Niacin
Oleic Acid
Omega-3 Fatty Acids
Omega-6 Fatty Acids
Pantothenic Acid
Phosphorus
Potassium
Riboflavin
Selenium
Sodium
Thiamin
Vitamin A
Vitamin B6
Vitamin B12
Vitamin C
Vitamin E
Vitamin K
Zinc
Medicinal uses for black olives
Black olives are an excellent source of vitamin E that helps combat and eliminate free radicals from the body. An article on The Times of India website also notes that the vitamin E and monounsaturated fats in black olives help promote safer cellular processes. Likewise, black olives are well known for their ability to prevent cellular DNA damage and subsequent mutation into a cancerous form.
Black olives are also touted to promote the body's cardiovascular profile. The superfoods are notably high in antioxidants that help mitigate cholesterol oxidation, which in turn reduces the risk of heart disease. Black olives also boast an ample supply of monounsaturated fats that help bolster good cholesterol levels and lower the odds of developing atherosclerosis.
In addition, black olives are especially rich in iron that promotes red blood cell production. This facilitates oxygen delivery across the various organ systems of the body. Likewise, the high iron content in black olives is touted to improve the body's overall immunity against a plethora of diseases. Black olives are also found to contain powerful anti-inflammatory compounds that alleviate rheumatoid arthritis and osteoarthritis. The superfoods are also known to ease asthma attacks.
Moreover, black olives are found to address various ailments of the digestive system such as ulcers and gastritis. The superfoods are known to stimulate bile secretion and inhibit the formation of gall stones. Aside from this, the high fiber content in black olives are shown to facilitate proper digestion, maintaining a healthy chemical balance in the digestive tract. Likewise, the vitamin E and the monounsaturated fats in black olives are known to counter the harmful effects of free radicals and reduce the odds of developing colon cancer.
Furthermore, black olives are essential for maintaining a healthy eyesight. In fact, one cup of black olives may provide up to 10 percent of the daily recommended intake of vitamin A. Due to their abundant vitamin A supply, black olives help the eyes better distinguish between light and dark. This also makes black olives an ideal superfood against cataracts, macular degeneration, glaucoma, and other age-related ocular diseases.
Body systems supported by black olives
Black olives are especially beneficial in maintaining a healthy cardiovascular profile. Likewise, the superfoods are helpful in maintaining healthy digestive, circulatory, and immune systems. In addition, black olives promote the respiratory and skeletal systems' overall health. Moreover, black olives help improve eye health.
Ways to use black olives
Black olives are a staple of various pasta and savory recipes. Separate articles posted on the Bon Appetit and Food and Wine websites feature interesting recipes for black olives.
Where to learn more
Summary
Black olives prevent cancer, cardiovascular disease, and arthritis.
Black olives fend off digestive issues and vision-related conditions.
Black olives are beneficial to the cardiovascular, circulatory, and immune systems.
Black olives support the digestive, skeletal, respiratory, and ocular systems.
Sources include:
We will respect your inbox and privacy