As with other medicinal flowers, lotuses produce edible seeds that are loaded with essential nutrients and health benefits. Lotus seeds are a staple in Chinese and Japanese medicine and diets for more than 5,000 years. According to the health and wellness website Live Strong, lotus growers typically harvest the seeds between August and September.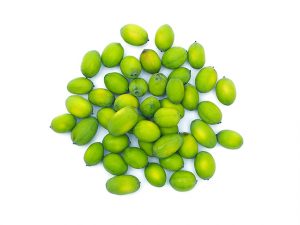 List of known nutrients
Lotus seeds are packed with essential vitamins and minerals that promote the body's overall health. According to an entry posted on the Nutrition Value website, lotus seeds contain:
Alanine
Arginine
Aspartic acid
Calcium
Copper
Cystine
Docosenoic Acid
Eicosenoic Acid
Folate
Glutamic Acid
Glycine
Hexadecanoic Acid
Histidine
Iron
Isoleucine
Isoquinoline
Leucine
Lysine
Magnesium
Manganese
Methionine
Niacin
Pantothenic Acid
Phenylalanine
Phosphorus
Potassium
Proline
Riboflavin
Serine
Sodium
Tetradecanoic Acid
Thiamin
Threonine
Tryptophan
Tyrosine
Valine
Vitamin A
Vitamin B6
Vitamin B12
Zinc
Medicinal uses for lotus seed
Lotus seeds are valued for their many health benefits, largely due to their rich nutritional content. They are best known for their anti-inflammatory properties that help address a plethora of health conditions. Likewise, lotus seeds are an excellent source of isoquinoline alkaloids that contain antispasmodic and calming effects that help dilate blood vessels and reduce blood pressure levels. The low sodium and high magnesium levels in lotus seeds are also touted to promote the body's overall cardiac profile.
Lotus seeds are also beneficial in maintaining a healthy digestive system. While the superfoods are known to improve appetite, they contain certain compounds that effectively stave off excess weight. Likewise, the seeds' anti-inflammatory properties are found to address mouth sores, ulcers, and gum diseases. Aside from this, lotus seeds are shown to inhibit the accumulation of visceral fat in the liver, thus preventing the onset of fatty liver disease.
In addition, the superfoods are traditionally used as a remedy to various digestive ailments such as diarrhea, indigestion, and many others. Lotus seeds are also touted to improve the overall function of the spleen. Likewise, the high fiber content in lotus seeds are found to maintain healthy blood sugar levels. This makes them an ideal food fare for patients with diabetes. The superfoods are also notably effective in addressing various urinary problems such as prostatitis. Lotus seeds are found to improve the overall health and function of the kidneys as well.
Moreover, the calming properties of lotus seeds help alleviate insomnia. The seeds possess natural sedative compounds as well as antispasmodic properties that help relax the nerves and treat various sleeping disorders. Aside from this, lotus seeds are also noted for their anti-hemorrhagic properties that fortify the capillary walls and mitigate excessive bleeding.
Furthermore, lotus seeds are known to alleviate various reproductive issues for both men and women. The superfoods are recommended for pregnant women as their high protein content may help in the development of the fetal nervous system. Additionally, lotus seeds are beneficial in maintaining healthy skin and hair.
Body systems supported by lotus seed
Lotus seeds are loaded with essential minerals that support the cardiovascular system. Likewise, the superfoods are notably effective in maintaining a healthy digestive profile. In addition, lotus seeds help promote the urinary system's overall function. Lotus seeds are also beneficial to the nervous and circulatory systems. Moreover, the superfoods promote both male and female reproductive health.
Ways to use lotus seed
Lotus seeds can either be eaten fresh or cooked. When cooked, they can be incorporated into a variety of meat and vegetable dishes. Lotus seeds can also be roasted or added to various dessert recipes. The Very Good Recipes website has curated interesting lotus seed recipes found across the web.
Where to learn more
Summary
Lotus seeds prevent cardiovascular diseases, digestive diseases, and insomnia.
Lotus seeds stave off urinary disorder, sexual deficiencies, and excessive bleeding.
Lotus seeds promote skin, hair, and pregnancy health.
Lotus seeds are beneficial to the cardiovascular, digestive and circulatory, systems.
Lotus seeds also support the urinary, nervous, and both male and female reproductive systems.
Sources include:
We will respect your inbox and privacy